Entering Golf Course Details - FAQ's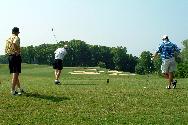 Hermitage - Presidents Retreat - Nashville
Each individual subscriber to FairGolfMatch.Com maintains a personal list of courses that they have played or that they intend to play. These courses can be selected from a list of courses previously entered in FairGolfMatch.Com, or a golfer can add a new course to our list.
Selecting An Existing Course
To add an existing course to your personal list of golf courses, log in to FairGolfMatch.Com and go to your list of current courses. Using the buttons below your course list, select the state where your new course is located, then click the "Play a New Course for Selected State" button. When a list of all currently registered courses for the selected state appears, select the course you wish to add to your personal list. The course will now appear automatically in your personal list of courses when you log in to FairGolfMatch.Com.
Entering A New Course
See our Special Subscription Bonus Offer to learn how you can extend your FairGolfMatch.Com subscription free of charge.
If the course you want to add to your personal list of courses is not present in the FGM list of existing courses, you can add it at this time. Click the "Add My New Course" button. Enter all the required data in the fields shown in the form. Note our bonus offer below for golfers entering complete new course data. Instructions for adding a new course are as follows:
1. USGA Number: Enter the USGA number for the course in question. This number is sometimes printed on the course scorecard, but usually you will have to ask a a pro shop employee for it. Our experience indicates that not all pro shop workers know this number, so you might have to ask the head pro or course manager. We need the USGA number so FairGolfMatch.Com's USGA handicap lookup for members of the club or course will work properly.
2. Course Name: Enter the full, correct name of the club or course.
3. Course City, State: Enter the city and state where the course is located
4. Tee Name: Enter the course name of the tees (Red, Blue, Championship, Duffer) you use when you play.
5. Tee Type: Select the Tee Type (Men's, Women's, Senior's, Other) from the drop down list that is shown.
6. Rating, Slope: Enter the Course Rating and Slope for the tees you are entering. This information is usually available on the scorecard and is always available in the pro shop.
7. Yards: Enter the yardage for each hole on the new course for the selected tee.
8. HCP: Enter the handicap number for each hole at the new course. This information is always available on the scorecard.

9. Par: Enter the Par for each hole on the new course. This information is always available on the scorecard.
10. To add the new course to FairGolfMatch.Com, click the "Add New Course" button. To quit without saving the course information, click the "Return To My List" button.
Bonus: A member of PersonalGolfStats.Com who enters all requested information for a NEW course at FairGolfMatch.Com or PersonalGolfStats.Com (complete info for all tees, contact info, address, phones, etc) and faxes or e-mails both sides of the course scorecard to FGM will receive a free, one-week extension of their PGS subscription. To receive this bonus you must fax (205-533-6330) or e-mail (golf@fairgolfmatch.com) both sides of the scorecard to us, tell us when the course was entered into our program, and give us your current subscriber information so we can identify and credit your account. We will verify the information is correct and then extend your PGS subscription by one week.
This offer does not apply to notification by telephone, or to courses which are already partially listed in FairGolfMatch.Com. We are trying to encourage our members to enter full course details when they play a new course so we can play golf too, instead of having to enter information in the program.
Fair Golf Teams for Fair Golf Matches
FairGolfMatch.Com
P.O. Box 1107
Decatur, AL 35602
Ph 256-560-7500
Fx 256-340-0033