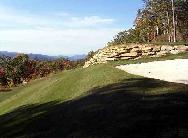 Trillium GC #9 - Cashiers, NC
There are two payment options available when you subscribe to FairGolfMatch.Com (FGM). Please note that regardless of how you subscribe, we do not share or sell any of your personal information, and we do not keep any record of your credit card numbers. See our Privacy Policy for more information.
1. Sign up on-line for the FairGolfMatch.Com services using a Visa or MasterCard (sorry, we are not currently set up to take American Express or Discover cards). Fill in the required fields on the Order Page and submit your information. Your credit card information is processed on a secure, encrypted web page by a third-party merchant bank. Credit approval takes only a matter of seconds. No one at FairGolfMatch.Com ever sees or knows your credit card number during or after this registration. Your credit card information is not saved anywhere in the FGM system after you have subscribed to our services.
Once your credit card is approved by our merchant bank , we (and you) are notified immediately and you may begin using FairGolfMatch.Com services right away.
2. If you are a fan of snail mail and the good old days, you can send us a certified check, cashiers check, personal check, or money order, along with your name, home address, e-mail address, phone number, GHIN number if you have one, and your preferred login name and password. Once your payment has cleared our bank you will be notified that you may begin using the FGM services. Personal checks may take up to two weeks to be cleared, and are not recommended. Please do not send cash since we do not have a piggy bank readily available at our office.
Fair Golf Teams for Fair Golf Matches
FairGolfMatch.Com
P.O. Box 1107
Decatur, AL 35602
Ph 256-560-7500
Fx 256-340-0033