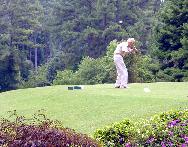 In Memoriam - Herb Peters at 91
When you log in to FairGolfMatch.Com you are presented a list of courses you have played or plan to play. When you click the "See Golfer List" button for a selected club or course, you are presented with a list of all FairGolfMatch.Com subscribers who have selected that course as a course where they will play and record scores. The list of golfers is divided into three groups, Members, Visitors, and Guests.
1. First, Last Name: Obviously the golfer's real name, unless they are in the Witness Protection Program.
2. Type: Either an actual Member of the club, a Visitor (non-member) who sometimes plays at the club and records scores shot at the club or course, or a Guest invited to play in a match at the course or club. Members can see personal information (except passwords) for other members of the same club. Visitors can see only the list of names of the members.
3. GHIN: For golfers who have an official USGA handicap, the GHIN number is their personal handicap identification number. If you click on a valid GHIN number for a player, you will be taken to the GHIN handicap web site where you will see the golfer's handicap and last 20 qualifying scores. For golfers who do not have a USGA handicap, FairGolfMatch.Com automatically generates an FGM ID code for the golfer. Clicking a GHIN number generated by FGM as a golfer ID will show a screen saying "Server Is Not Available, Please Try Again Later".02-20-2006
4. Rating: The golfer rating is the heart and soul of the system to create evenly matched teams for team competitions and tournaments. It is calculated based on the number of eagles, birdies, pars, and bogeys a golfer makes during each round. The rating is based on an average of a golfer's last 6 and last 30 rounds, reflecting both long term ability and the current state of their game. When teams are selected for matches and tournaments, FairGolfMatch.Com creates teams that are very even in total rating points for the members of each team.
5. Enter Summary Score button: A summary score consists simply of the golfer's score, and the number of eagles, birdies, pars, bogeys, and "unmentionables" made during the round. Summary scores are used to calculate golfer ratings. For more information on Entering Summary Scores use the links at the left of this page or click on the link shown here.
6. View (Enter) Detail Scores button: Clicking this button allows you to view, but not enter, detail scores by other members of your course or club. The button by your name will say "Enter Detail Scores" so you can enter a detailed score for each of your rounds. Entering a detail score automatically generates a summary score for the same round. For more information on Entering Detail Scores use the links at the left of this page or click on the link shown here. You must also be a member of PersonalGolfStats.Com to enter detail scores.

7. Previous, Next buttons: These buttons allow you to scroll through the list of golfers at a club or course.

8. Start Golfer List With: Type the first letter or letters of a golfers last name, then click "Go" to locate them quickly in the golfer list. You can limit the search to members only, visitors only, or visitors and members by using the selection box provided.

9. Sort By Rating/Name button: Click this button to toggle between sorting golfers at a club or course by last name or by golfer rating.

10. Return To Course List button: Click this button to return to the list of courses that you play.
Fair Golf Teams for Fair Golf Matches
FairGolfMatch.Com
P.O. Box 1107
Decatur, AL 35602
Ph 256-560-7500
Fx 256-340-0033